The Unforgettable Team Building Experience
Have you ever built your own live edge charcuterie board? Chances are your friends, coworkers or clients haven't either! Say goodbye to axe throwing, bowling, escape rooms, and all the other activites that you've done before. Try something new and bring your memories and charcuterie board home with you! We offer the team-building activity to companies looking to build on their culture or build relationships with clients, and also for private events like birthdays, bachelor/bachelorette & so much more.
We've partnered with various establishments (breweries, wineries, coffee shops, restaurants, etc) across Toronto, so your crew can enjoy local food & drinks while working in a beautiful setting. Or, we can bring the workshop to you!
Sometimes, we take our workshops public and offer them across the city. Check out our UPCOMING WORKSHOPS page to see where we are hosting next!
The workshop is educational, hands-on, fun and of course a little messy. Create memories with your friends while you build your own elegant charcuterie board that you can brag about the next time you host a gathering.
You'll learn about the classic woodworking tools that have been used for centuries, the milling process of local Ontario wood, and how to properly style a charcuterie board with meats, cheeses, fruits & more.
Then, you leave with your own charcuterie board and a story to tell at your next party!
Step 1

Using a traditional draw knife, its time to "unbark" your piece of wood. Remove the bark to expose the live edge of your wood, creating a truly one-of-a-kind design.

Step 2

Sand your board down to make it as smooth as you possibly can.

Step 3

Bring out the natural colours and grains of your wood, by applying a food-grade oil finish to it. This is the most exciting part, as you watch your peice of wood transform from ordinary lumber to an elegant walnut serving board.
Our Story
Hey there! I'm Nick. Nice to meet you.
Woodworking was always an interest to me, and I remember how proud I felt when I finished my first charcuterie board. And it was so easy! Watching the oil spread across the woodgrain to bring out the earthy contrast of colours was the start of my addiction.
I want to share that proud feeling of a completed wood project in a fun and exciting way that brings people together. And since we use local Ontario woods, I thought we should eat and drink local too!
At the end of our workshop, you will leave with new friends, memories, and your very own hand-made charcutierie board to brag about.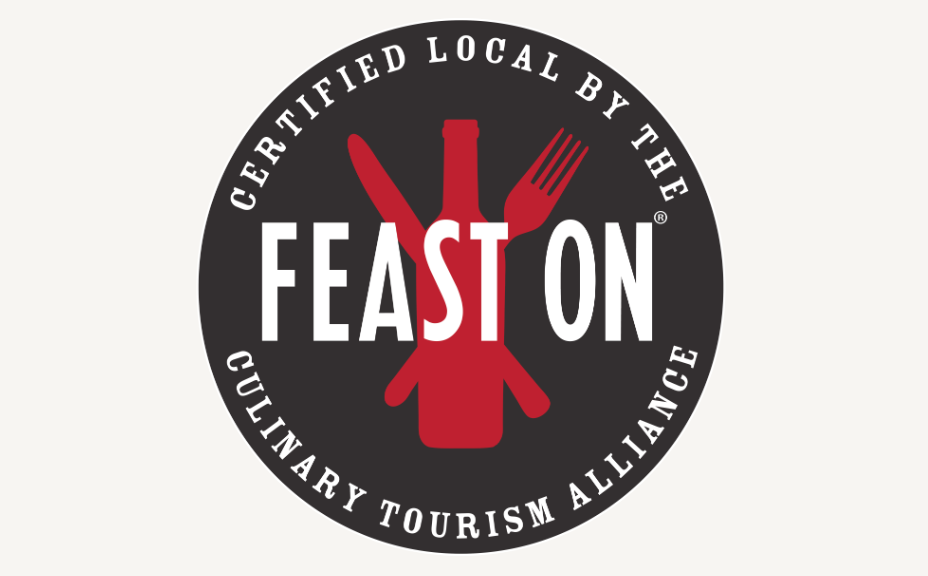 We are FeastON Certified!
This means that we meet a
strict set of standards set by the Culinary Tourism Alliance
to prove that we are committed to sourcing Ontario grown
and raised ingredients. When you opt to eat or drink with us, you know
you're getting a genuine taste of local.
Frequently Asked Questions
Where are you located?

We are located in Toronto, Ontario. We've partnered with various breweries in the city, so your workshop is hosted between industrial brewing tanks while you sip craft beer and build your boards.

We can also bring the workshop to you! Just reach out to us and we can explain it all.
Is it dangerous?

Nope, we don't use any power tools! We also understand that many people have never done something like this before, so we do our best to make it as easy and enjoyable as possible. We even support a couple of drinks while building!
How many people do I need for a private event?

We require a minumum of 10 people for a private workshop to take place.
How much does a private event cost?

Private events starting at $119.99 + HST per person, and everyone gets to keep their handmade charcuterie board!
What do we need to bring?

A good attitude, that's all! We provide the tables to work on, the wood to customize, the tools to work with and the oils to finish your project.
How long is the workshop?

The workshop runs for approximately 2-3 hours. First, your group will learn how to properly style a charcuterie board with meats, cheeses and fruits, so they are ready to host their next party! They will learn about the tools and the wood, then they will debark the wood to expose the live edge, sand it smooth, and finish it with a food-safe oil.